O2 Workshop – Haven for Sovereign Professionals?
O2's Tottenham Court Road (London) store is piloting the O2 Workshop, a drop-in centre for small businesses and in-transit business-people.  As well as offering free drinks and casual meeting space, the facility also provides private meeting rooms, wireless printers and tablet devices.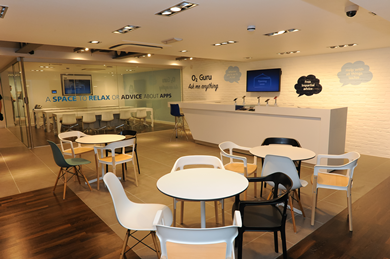 I've long thought that mobile providers could do more to engage with the growing ranks of sovereign professionals – independent professionals offering B2B services "on demand" to larger enterprises.  For such people, the smartphone is the centre of their world; often the business's only telephone number, the mobile worker also relies on their smart-phone to access email and stay in contact whilst on the move.  The O2 Workshop concept could be a real asset for independents and flexible workers.
However, I wonder if the idea risks falling between stones.  In all likelihood, the coffee will be better at Costa or Starbucks; the office facilities will be better at Regus or business clubs like the IoD and the only time I really think about my mobile provider is when things go wrong.
More on the O2 blog, here.
I hope it works well.  Any oasis for road-warriors is welcome.  I'm just not clear that it will be successful.
Technorati Tags:
O2
,
O2 Workshop
,
road warrior
,
sovereign professional
,
freelancing
,
flexible working
,
organisational humanity
,
Costa
,
Starbucks
,
IoD
,
Regus
Flexible Working, Freelancing, Organisational Humanity, Sovereign Professional, Technology